Posts to read, friends to meet:
Sara made some changes recently that have brought greater motivation and happiness to her and her family. She's also in love with thrifting! Her boys, Owen & Alex, are totally sweet.
Lish is afraid of snakes and has been rejected by multiple body piercings. She has a lot of heart, and she'll show you how to wear yours three different ways. I can totally relate to her frustrations here.
Beth takes pleasure in the simple things in life. She recently shared a few thoughts on less-known social networking sites. Have you read "The No Brainer Wardrobe"? Beth has a great review here.
Melissa just bought the hottest shoes I've ever seen. She knows how to make a puffy coat look good. And the lady knows how to braid!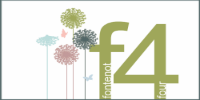 Sarah encourages me daily, for that I am very thankful! She knows how to share a good word! Have you ever been on a Daniel Fast?
Audrey is one photographically talented lady! I love Disneyland. All about her!
Elizabeth shares why we should celebrate everything. She asks why do you blog? And answers too. Did I mention she can make sunshine?