Hey Lovelies! I just got back from a crazy wonderful three week adventure that was equal parts fun and exhausting! We were in Texas visiting my sister & her family as she welcomed her newest baby girl into the fold. I couldn't wait to get back and see my husband…and he was a quite a site for my sore eyes last night at our little reunion. :) Looking forward to catching up with you all and finding my groove again!
I also want to take a minute to thank each of my awesome guests that contributed during my time away. I couldn't have mentally survived and enjoyed myself without each of you!! Thank you all so much!!
I have many pictures to share over the next couple of days, but for now I just want to share my new haircut, and a few random facts, as well as
welcome my new lovelies
(that's you!)!
11 Random Questions (& Answers):
Favorite Food: Seafood, and I am a total snob about it, it has to be from the Pacific Ocean to be good.
Favorite Nail Polish: Ballet Slippers by Essie
Hidden Talent: Intuition…if we lock eyes I can read a lot about what is going on in a person.
Hot Cocoa or Apple cider? Hot Chocolate for sure, with a mountain of whipped cream on top!
Favorite Childhood Memory: Snowmobiling or Camping with my family.
Who are the gifts from (Christmas)? In our family the gifts are from each other via God's blessing.
If I could live anywhere: San Diego, California
Favorite TV Show: I am hooked on the Bachelor/Bachelorette. In my defense that is the ONLY trashy show I watch.
How many books do I read a year: I start probably 5-10 but only finish a handful!
What is your best quality? I am an honest person. I'm the friend you call when you want to be heard, understood and then receive truthful feedback. Not the friend you want to call to join a pity party.
What is your biggest fear? That I won't fulfill my purpose in the time I have left in my life.
P.S. I have to tell you, these ten questions were from a tag post that I received in DECEMBER, but life got busy and it got lost in the shuffle, but hey, better late than never. (Thanks
Amanda
for tagging me!)
And now, moving onward, I want to give a big shout out to Christa at Young & Restless, for choosing me to co-host this week's Restless Blog Hop!!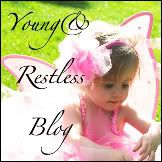 WELCOME to the Restless BLOG HOP!
A blog hop is, its where you link up your blog, FB, twitter, etc and hop around to the other links, say hi, and find blogs you might like! (As well as be found).
Kind of like one big blogger meet and greet :)
RULES:
Follow your
Host
& Co-Host (Me!)
Grab this button and place it on your blog for the weekend!
Its smart to make a special post about the hop and talk about yourself or post something fun to draw people in :)
Thank you so much for visiting, linking, following, etc! Can't wait to meet you! And let's get hopping!