I am so blessed by the lovely friends I've acquired through blogging. After submitting
my original 11 things post
, I got tagged in 2 others, so I'm going to go ahead and share a little more, answer 22 questions…and pass along a few awards I received. :)
11
More
Random Things:
1. I have an inordinate love of mushrooms. I'm obsessed. With all kinds of them. And I can eat them in anything. My favorite mushroom variety? Morels. Delicious cooked up in an egg scramble or frittata!
2. My husband says I have hobbit feet. Before you run in horror, I assure you they are not hairy and flat, he just makes fun of my longer second toes. Yep, my second toes are longer than my big toes.
3. I used to be a big-time raver. I was a part of Seattle's underground rave party scene, and I may have gone by several different raver alias names. The worst one: Magenta Rave Girl (so creative)…because I sported a Magenta wig. I will have to dig up old rave pictures for shock value one of these days. I still love deep tribally progressive house beats and can dance pretty well.
4. Speaking of dancing, my husband is pretty great…but I wowed him when we first started falling for each other by dancing all night (until 4am) at a Chelsea bar. I brought little tennis shoes in my purse because I was THAT serious about dancing. (I really miss dancing on the regular!)
5. I want to take a family Karate class. Not only to learn the technique and skills, but also because I think we'd look cute in our white uniforms together.
6. The longest friendship I have ever had is with my best friend from 6th grade, Elisia. She is still ultimately my best friend and has been there and stayed in touch throughout the years. Recently I was in her wedding as her Matron of Honor. (She was my Maid of Honor) I know we'll be friends all our lives.
7. I worry about my ability to have more children. I know I am only 30 but I still know the reality that there is no guarantee that it will be easy for me to conceive a 2nd child. At the same time I'm not obsessing about it enough to try desperately to conceive. It is just a continuous concern in the back of my mind.
8. I'm a yeller. Well, it's not that I intentionally yell, but when I am passionate or my emotions are stirred up, my volume rises exponentially. I have improved a bit at recognizing when my tone is too loud, but I still have a long way to go.
9. When I was a little girl I wanted to be Madonna. I loved her…and still do love her music. It was, however; kind of sad to see her Superbowl performance and see her trying so hard to appeal to a generation that will never appreciate her the way I do.
10. The best band I have EVER seen live is Linkin Park. Sometimes seeing a band live can be the worst thing, especially when live they sound horrible…(Everlast was painfully bad live)…but Linkin Park actually sound BETTER live than on their cd. I would love to see them live again soon!
11. "Ready, O-K!" I was a cheerleader in high school. I loved cheerleading but it was riddled with controversy and disrespect at our small (under 300 students) high school. I would have LOVED to go on to cheerlead in college!
And now the Questions:
Kelley's
Q's:
1. What natural disaster freaks out you the most?
I would have to say that tornados freak me out quite a bit. They seem to leave nothing but utter destruction in their paths.
2. What period of history would you like to go back to?
I would love to go back to Israel when Jesus was alive or shortly after he rose from the Garden tomb…I'd like to be involved in the early church and feel the awe and wonder of what had just taken place vividly and from first hand accounts.
3. Manicure or pedicure?
Definitely pedicure…they ALWAYS seem to mess up my mani's, and I love having my feet rubbed.
4. What time period in your life would you like to live again?
I'm pretty satisfied with the time period I'm living right now, so perhaps I will look back in a decade and be nostalgic for right now.
5. What kind of a parent do you think you are? (Or will be)
I think I am pretty balanced in my approach…I'm not really sure how to answer this in all honesty.
6. How do you keep your patience with your kids/husband when they are driving you crazy?
I take a Wooo-saaaahhh. I take a time-out and do some deep breathing. It works. Screaming into a pillow also helps if it is a really bad day.
7. Favorite thing on TV.
I love New Girl, Once Upon a Time and Revenge. :) Suburgatory and Up All Night are fun as well.
8. How interested in celebrity gossip are you?
I glance at the headlines now and then but really could care less.
9. What did you major in in college? Would you change it now? (Or would you have gone if you didn't?)
I had a full tuition scholarship to a pretty University of Washington, but my mind wasn't focused at the time, and I blew it. I will always wonder what life would be like had I stuck it out, or had more support.
10. Are you a firearm owner?
No, not yet. I want to be.
11. Favorite thing about yourself (looks or personality).
I like my personality but I'm not sure it is my favorite thing about myself. My favorite thing about myself is really my love for Jesus and faith in him.
Jen's Q's:
If you could only eat one thing for the rest of your life, what would it be?

Chocolate Peanut Butter Ice Cream…well, on 2nd thought, hmmm….Veggies with Hummus?

How many pairs of shoes do you own?

Not enough.

What is your favorite blog to read? (mine, right? hehe)

Brock Paper Scissors

If you were not blogging right now what would you be doing?

Probably catching up on my Hulu queue or cleaning.

What is your favorite movie?

Ever After is one of my all time favorites.

Side, back or belly sleeper?

Fetal position, always.

What book do you recommend?

Happiest Toddler on the Block, Dr. Harvey Karp

Do you keep your nails painted?

I wish…keeping my nails pretty seems to fall lower and lower on the priority list. But I'm rocking press-on nails right now. :) Cheating feels good.

Favorite holiday besides Christmas?

Anyone I care about's Birthday!! I just love celebrating the people in my life.

Favorite phone app?

Instagram. :)

Bachelor or Grey's Anatomy?

Bachelor…for sure!
Speaking of the Bachelor…by the end of the season I was totally team Courtney…and I found her on a box of hair dye:
Jen
also gave me a Liebster Award:
This award is given to bloggers who have less than 200 followers, as a way of creating new connections. Liebster is German and means 'dearest' or 'beloved' but it can also mean 'favorite'. When you receive the award, you then pass it onto 5 other deserving bloggers as a way to pay it back and spread the love.
And my friend
April
gave me a Kreative Blogger Award:
I get to
answer some fun questions (the form below),
then list 7
random

facts about myself (I already listed 11 above!),
and pass the award on to 10
other

bloggers

.
The form
Name your favorite song: Currently: Somebody I Used to Know, Gotye
Name your favorite dessert

: Chocolate Ice Cream with Peanut Butter Cups

What pisses you off

: Injustice and Double Standards

When you're upset, you

: Listen to angry, sad or whatever music matches my emotions, vent to someone I love that won't judge, and then release my cares to God

Your favorite pet

: I love cats & dogs.

Black or white

: White

Your biggest fear

: Leaving before my work here is done

Best feature

: My faith

Everyday attitude

: Go with the flow.

What is perfection

: God (agreeing with April)

Guilty pleasure: The Bachelor / The

Bachelorette

episodes (Me too April!)
And finally I received this award a while ago from the lovely Ronni: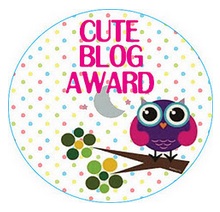 To Accept the Award I have to:
1. Link back to the person who gave you this award.
2. Answer award questions.
3. Award as many blogs you think deserve this award.
4. Make sure you let those you give this award know that you awarded them.
5. Tell something you have never told before in your blog.
1. What is your go to make up product?
bareMinerals foundation system
2. What's your favourite fashion trend of 2011?
Jeggings
3. What is your favorite dessert?
Chocolate Peanut Butter (anything with that combo)

4. Favorite color?
Blue - in any shade
5. What is your middle name?
Rhiannon
6. What was the last song you listened to?
Bedrock Eleven by John Digweed
7. Cats or Dogs?
Both.
I already mentioned a few things I haven't before, and I'm feeling all tagged out, so I will only tag a couple more for this award: Sara, Christa, Claire & Kelli