Welcome to another week of Healthy Living! I'm so excited you're here and look forward to hearing your tips and simple steps towards a more healthy lifestyle.
For this month, Kristina is doing something a little different!
There will be a giveaway with this linky party, so all the more reason to have fun and participate!
Check out these awesome link-ups from last week:
***
Probably one of the simplest things I've ever done:
I TOSSED OUT OUR MICROWAVE.
Sure, it takes away the convenience of zapping your food in a hurry, but it also gives me peace of mind (worth more than any convenience) in knowing that the food I prepare is not the packaged processed kind. No microwave = I won't be tempted to buy that kind of junk.
Plus, I just felt a need to rid our home of it. There are articles out there on both sides of the fence as to wether microwaved food is as healthful as regularly prepared food, but I feel that with so much illness and cancer on the rise, I don't want to take any chances. Erring on the side of caution. (Much to the dismay of my convenience loving husband!)
What are your thoughts on microwaves?
***
Today, Kristina is offering a Family-Size NonPetro Jelly skin balm as the giveaway with this week's link up! Use this just as you would Vaseline or Aquaphor or lotion for that matter, but with more peace of mind, knowing there aren't any harmful ingredients in it!
For a chance to win this awesome NonPetro Jelly, We'd love to have you link up your own simple steps (for added points not a requirement) and enter the raffleopter below.
Now it's your turn to share what you're learning!
But first, check out these lovely ladies co-hosting with Kristina today!
And now, for the rules...I'll try to keep them simple :)
2. You can post about anything you want, as long as it's a simple step towards a healthier lifestyle including tips for "green" living. I will ask that you avoid the following:
no artificial ingredients
3. Share the love. Check out at least 3-4 other posts and introduce yourselves. The thing I love most about linky parties is that you get to meet so many amazing people!
4. Have fun!! :)
I'd also love to have you put the button on your post or blog somewhere so that it's an actual "link" party! :)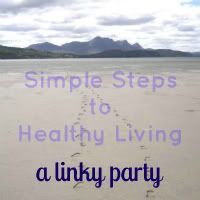 Want to co-host next time? Just
contact Kristina
and we'll set it up!
And featured ladies, don't forget to grab the "I was featured" button! Excellent shares and I'm so glad you linked up last time!!